About Us
Welcome to Susabella and thanks for visiting our shop! Susabella specializes in personalized pieces from custom wedding gifts to baby and baptism gifts, pet gifts and much more. Each item typically take about 1-2 weeks to make. Some are much faster and some pieces take a bit longer, please view the individual item for the approximate lead time. We celebrate all of life's moments and every piece is hand crafted so no two items are the same. Most items come with a beautiful gift box ready to give or keep for yourself. We love custom orders so if you have an idea, please send a message. Check back soon for even more products!
Every piece is handcrafted, stamped and glazed so no two items are the same. Many of our items are wedding or milestone related, so we create heirloom-quality pieces that can be passed down or re-used. All our clay and glaze is both nontoxic and food safe.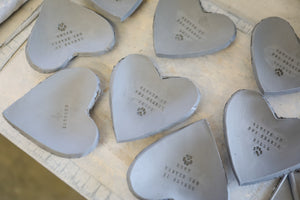 Our process starts with a big block of earthenware clay. We then smooth it out with a slab roller, and mold the pieces. Next, we hand-stamp each piece and set them out to dry, which can take anywhere from a few days to a few weeks, depending on the size. When they are dry enough, we do a bisque firing and glaze each piece before firing them one last time.
The majority of our orders are custom pieces, and we love when a customer asks for something new and different. It's fun to see their ideas come to life, and we really appreciate it when a customer takes time to leave feedback or send an email to let us know how much they liked their piece. Our team puts love and care into everything they create, as if it was being sent to their own family and friends.
Our personalized jewelry makes a perfect addition to any of our keepsake boxes. All jewelry is carefully assembled by hand in our studio, ready to ship in only 1-2 business days. Most pieces can be personalized with a birthstone, initial charm, zodiac, or birth flower. Our chains are available in 14K gold-filled, sterling silver, rose gold, and plated metal.
Shipping is the final step of our process. All orders are hand packaged with love and care by a dedicated shipping team. Each piece is wrapped separately in bubble wrap and surrounded with protective padding for a safe journey in transit. On the rare occasion an item is damaged in transit, we are happy to send a complementary replacement.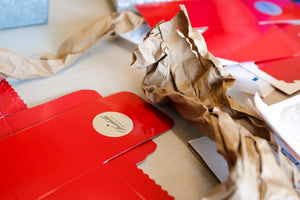 Have a question?
We love our customers and want you to be 100% happy with your experience. Please contact us if you have any problems or questions about an order.
Our customer service hours are 9am-5pm (PST) Monday - Friday.
We try to get back to customers as soon as possible!
Contact Us
Our Story
Susabella was founded by Susan Shapiro in November 2011. Susan previously owned a graphic and web design business for nearly ten years. After having her son she decided to take a break but missed having a creative outlet. Her mother-in-law who has done pottery for years, encouraged her to take a class and that's how it all began (thanks Margaret!). She soon discovered that she could blend her love of all things wedding, baby, home and pottery related into a new business crafting heirloom accessories and gifts.
We donate a portion of all proceeds to FeedingAmerica.org which helps provide low-income families with food.
Susan
Owner, Founder, Designer, CCO (Chief Ceramics Officer) :)

Susan is a trailblazer, expanding her business from the early days in her garage to a ceramic studio with a full workforce. She's always looking for new creative ways to grow her business. Even with all the hard work, Susan makes sure to keep things fun! When she's not in the studio, Susan enjoys spending time with her husband, her son, and our studio mascot - Hazel the shih tzu! She loves a good happy hour, laughing and spending time with others.

People commonly ask how Susan came up with the name Susabella. Susabella was actually the nickname given to her by her grandmother, Nonna. Susan always admired her grandmother's tenacity, dedication and strong work ethic. Due to that inspiration, Susan realized it was only appropriate to use Nonna's name for her as the name for her business, and from that, Susabella, Inc. was born.
Alaina
Steve
Designer, Lead Production Artist
Cait
Virtual Assistant, Customer Service
Selah
Ashley
Maker, Jewelry Production
Sydney
Maker, Jewelry Production
Kris
Katie
Alana
Drew